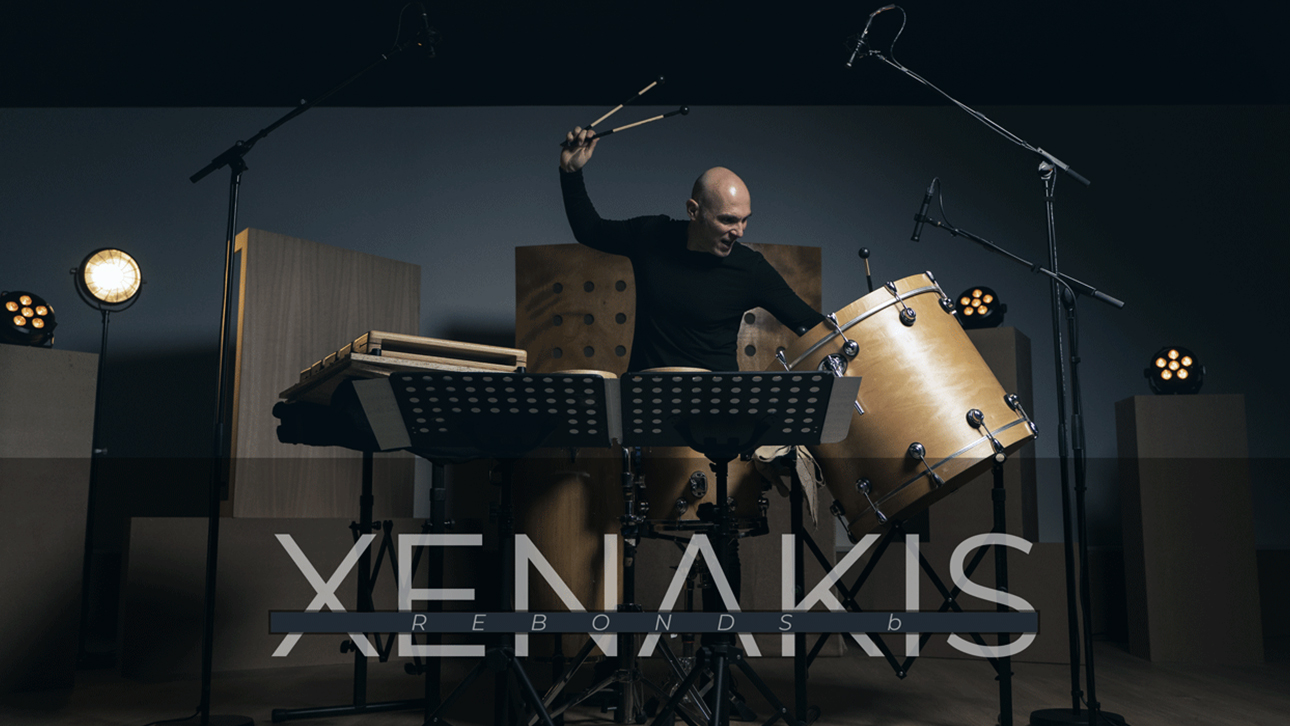 A Fresh Look at Xenakis
I smile when at the end of my performances of Rebonds b by I. Xenakis performed at 4 drumsticks my fellow percussionists, say to me, surprised, "congratulations, you had a great idea to perform the piece at 4 drumsticks!!! It actually works even with 4!!!" I smile, because I realize that, in my opinion, the topic has not been fully understood. Until now this piece has been performed, by myself included, with 2 sticks but, that does not mean that this approach was correct. The piece was clearly conceived with 2 independent melodic lines that, only at certain moments, seem to merge into a single line (I am referring, to be exact, to bars …-….). To assume that these phrases can be performed, trivially, on two sticks makes one realize how little attention is unintentionally paid to the analysis of the score. It is clear, in this particular period of the score that, the ostinato of the high-pitched bongos never stops until measure 8 and the end of measure 16. Neither does the melodic line entrusted to the drum set, which, customarily is entrusted to the left hand, ever interrupt. In fact, it is the left hand (high bongos) that goes to support the melody of the left hand almost as if to prolong the duration of each note, but without ever interrupting the ostinato in sixteenths. I will try to give you a better understanding of my intention… The piece is full of episodes that undoubtedly have at their basis a creative concept involving two distinct and independent melodic lines. If we were to make a comparison with piano practice, do you think a 2-voice Bach invention could ever be performed by a pianist with 2 fingers/hands, mixing the voices, depending on the difficulty of the passage or the technical difficulty? I understand that the idea of playing drums or drums with 4 sticks is seen today as innovative or, even bizarre. So, allow me to smile!
I believe that, these misunderstandings can very often be attributed to the ability of publishers or writing software that, probably at the time, were not so evolved as to be able to digitally bring back such a complex manuscript. This is also clear from the several typos in which there is a failure to replace the note in pauses. The pauses, with writing software such as Finale, etc., in order to write a pause one must first write the note and then turn it into a pause. This is just a trivial example that makes it clear how a small distraction can generate huge misunderstandings. I do not know if X. was ever able to revise his scores after they were converted to digital. The fact is that a great many doubts arise. And, if it happened in Rebonds, I assume it may have happened in other compositions as well. I belong to that category of performers who prefer to work on manuscripts despite the initial difficulty due to deciphering them. I prefer a composer's error and do not admit the transcriber's error as a generator of silly misunderstandings.